Ultrasound & LED Light Beauty Device, Personal Ultrasound Facial Care Beauty Equipment
Model No.

JM-6011-1 / JM-6011-3

Made in

Taiwan
Ultrasound & LED Light Beauty Device
Key Features
JM-6011-1 Ultrasound & LED Light Beauty Device - 1 MHz
JM-6011-3 Ultrasound & LED Light Beauty Device - 3 MHz
Personal Ultrasound Facial Care Beauty And Health Equipment
Micro Massage from Ultrasound can lead the maintenance change to the member into the deep skin, use with the red light can stimulate the collagen, improve the spots and wrinkles, enhance the gloss and elasticity of skin.
Charge type
Voltage: AC100V~240V.
Frequency: 50/60Hz
Consumption: 6W
Input: DC24V
Net Weight: 250g
Measurement: 16.2x6.1x6.4cm
Functions:
Red Light / wave length 640nm: to promote blood circulation and alive cell and to eliminate black flecks, wrinkles.
Green Light / wave length 520nm: to improve the skin relaxation which caused by tired and also improve the acne and
eliminate darkly and to balance the quality of the skin.
Yellow Light / wave length 550nm: to eliminate wrinkles and increase oxygen contained quantity of blood.
Blue Light / wave length 480nm: to erase acne, improve inflammation, and this treatment be suit for sensitive, pimple and oily skin.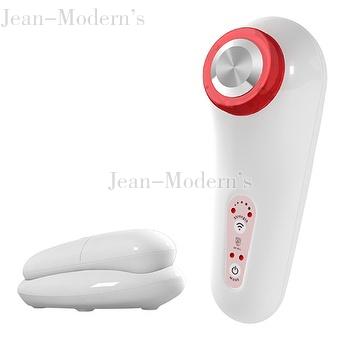 Payment Details
Payment Terms:TT ,L/C ,PayPal
Minimum Order:12 Sets
---
Recommendations
---
Small Order Recommendation