HIFU-High Intensity Focused Ultrasound Machine
Model No.

JM-8730SK

Made in

China
HIFU Face Lifting And Body Slimming Machine
Key Features
HIFU-High Intensity Focused Ultrasound Machine
HIFU Face Lifting And Body Slimming Machine
1. Skin Tightening
2. Anti-wrinkle Machine
HIFU Working Principle
High Intensity Focused Ultrasound (HFU) directly delivers heat energy to skin and subcutaneous tissue that can stimulate and renew the skin's collagen and thus consequently improving the texture and reducing sagging of the skin.
It literally achieves the results of a face lift or a body lifts without any invasive surgery or injections, moreover, an added bonus of this procedure is that there is no downtime. This technique can be applied to the face as well as the whole body, and also, it works equally well for people of all skin colours, in contrast of lasers and the intense pulse lights.
HIFU Advantages
1. More than 20,000 shots according to quality inspection and clinical tests, ensuring that each shot effects into the right depth set by default.
2. Equipped 3 heads (1.5mm, 3.0mm, 4.5mm), precisely acting on different depths of the skin. The energy will skip the epidermis, leaving no damages.
3. It will produce thermal effect to the dermal collagen fibers and stimulate the fat layer and SMAS. The result is far better than There age.
4. The skin will be lifted and tightened at once, and effect will last for 12~24 months.
5. There are no post-surgery down time and you can resume your normal activities immediately.
6. Easy to control and operate, no consumables, cost-saving.
HIFU Features
* Quick & short treatment time: 60~90 MINS one face treatment.
* SMAS contraction : collagen remodeling , elastine fiber contraction.
* None downtime: skin just become red within the first several hours, then skin recover.
* Instant result will be checked from the second month to the nine month, good result will last 2-3 years.
* Totally non-invasive.
* With CE approval.
HIFU Applications
* Remove wrinkles on around forehead, eyes, mouth, etc.
* Lifting and tightening both cheeks skin.
* Improving skin elasticity and shaping contour, forehead, eyebrows lines and neck.
* Improving jaw line, reducing "marionette lines"
* Tightening the skin tissue on forehead, lifting the eyebrows lines.
* Improving skin complexion, making the skin delicate and bright.
* Match with injecting beauty like Hyaluronic acid, collagen, to resolve more aging problem.
* Removing neck wrinkles, protecting neck aging.
Power: 150W
Voltage: 110V~240V, 50Hz/60Hz.
Shots: 5000 / each head.
Number of Heads: 3.
Energy Type: HIFU 4MHz / 7MHz.
Distance: 1-4 mm (0.2 mm step)
Length: 5-25 mm (1.0mm step)
Energy Output: 0.1 - 3J/cm2 (0.1J step)
Depth: 1.5mm / 3mm / 4.5mm.
Screen Size: 15'' inch touched screen.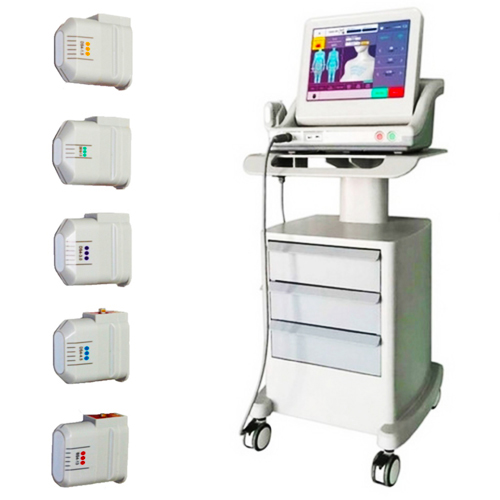 Payment Details
Payment Terms:TT ,L/C
Minimum Order:5 Sets
---
Recommendations
---
Small Order Recommendation