Digital Skin Moisture Meter, Portable Facial Moisture Test Equipment
Model No.

JM-6015

Made in

Taiwan
Key Features
JM-6015 Digital Skin Moisture Meter
Portable Facial Moisture Test Equipment
Handy Size-Easy to Carry
Feature:
Special Designed Precision Instrument
Compact Pen-Type Design
Highly sensitive probe
Good for home, traveling, Beauty Salon...etc.
1. Input Voltage: DC3V CR-2032 Battery
2. Current: 2.7mA (Max)
3. Consumption: 8mW
4. Display: with LCD display screen
5. The instrument utilizes the latest Bioelectric Impedance. Analysis (BIA) technology.
6. Moisture range: 0~99%
7. Reset to zero: 5 secs. with sound of BI-BI.
8. Sonorant institute: the button with sound of BI-BI ' finished the test with sound of BI.
9. Low power consumption. save more energy and save more money .turn off within 30 secs. Automatic.
10. When the kit reset to zero, within 15 sec. no one use the kit, the machine will be sound of BI------------ and show
UUU error message on the display screen.
11. Power supply: 1x3.0V CR-2032 Battery.
12. Measurement: 16x4x3cm
13. Weight : 470g
Operating Environment: temperature: 5~40°C
Humidity rate: < 70%

We mainly export the latest beauty projects to beauty salons and supply the distributors with Hair care products and Skin care basic beauty devices for all kinds. OEM and ODM service provided.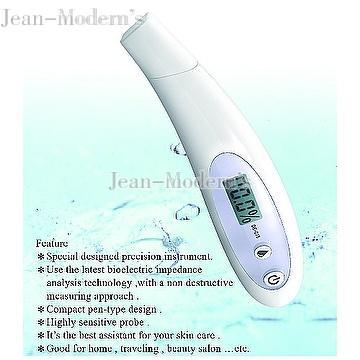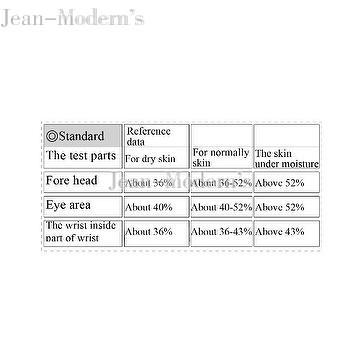 Payment Details
Payment Terms:TT ,L/C
Minimum Order:10 Sets
---
Loading ...Shipping & Packaging
Loading ...Payment Terms
Loading ...Return Policy
Recommendations
---
Small Order Recommendation